Sistem Informasi Program Persediaan Barang (Studi Kasus Pada TB. Harapan Mulya II)
Nila Hardi

Program Studi Rekayasa Perangkat Lunak, Universitas Bina Sarana Informatika

Henny Leidiyana

Program Studi Sistem Informasi, Universitas Bina Sarana Informatika
Abstract
A computer is a tool created to facilitate human work. In this era of information technology has achieved very good progress from the manufacture of hardware and software. TB. Harapan Mulya II is a trading company engaged in the sale of building materials. System on TB. Harapan Mulya II uses a system that is still manual, starting from recording user data, goods, customers, suppliers, incoming goods, items out, goods orders and the process of making reports relating to inventory. Allows the occurrence of errors in managing inventory, so that it can cause inaccurate inventory data. The research method used to compile this thesis uses the method of software development (waterfall) and data collection techniques include: Observation, interviews and literature study. By making the design of this program is the best solution to overcome the problems that exist today, as well as with computerized inventory of goods in this company so that all activities undertaken are better than the previous system.
Keywords: Inventory, Program, Design
Abstrak
Komputer merupakan alat yang diciptakan untuk mempermudah pekerjaan manusia. Pada era sekarang ini teknologi informasi sudah mencapai kemajuan yang sangat baik dari pembuatan hardware maupun software nya. TB. Harapan Mulya II merupakan perusahaan dagang yang bergerak dibidang penjualan bahan bangunan. Sistem pada TB. Harapan Mulya II menggunakan sistem yang masih manual, mulai dari pencatatan data user, barang, customer, supplier, barang masuk, barang keluar, order barang dan proses pembuatan laporan yang berhubungan dengan persediaan barang. Memungkinkan terjadinya kesalahan dalam mengelola persediaan barang, sehingga dapat menyebabkan ketidak akuratan data persediaan yang ada. Metode penelitian yang digunakan untuk menyusun tugas akhir ini menggunakan metode pengembangan perangkat lunak (waterfall) dan teknik pengumpulan datanya meliputi: Observasi, wawancara dan studi pustaka. Dengan pembuatan perancangan program ini merupakan soulsi yang terbaik untuk mengatasi permasalahan yang ada saat ini, serta dengan terkomputerisasinya persediaan barang di perusahaan ini sehingga semua kegiatan yang dijalani menjadi lebih baik lagi dari sistem terdahulu
Kata kunci: Persediaan, Perancangan, Program
Downloads
Download data is not yet available.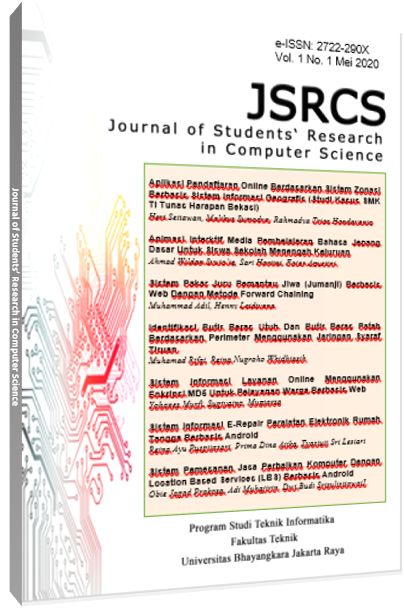 How to Cite
Hardi , N., & Leidiyana, H. (2020). Sistem Informasi Program Persediaan Barang (Studi Kasus Pada TB. Harapan Mulya II). Journal of Students' Research in Computer Science, 1(2), 89 - 96. https://doi.org/10.31599/jsrcs.v1i2.355