Animasi Interaktif Pengenalan Negara ASEAN Menggunakan Metode Multimedia Development Life Cycle
Panggi Anwar Saputra

Program Studi Sistem Informasi; Universitas Bina Insani

Endang Retnoningsih

Program Studi Sistem Informasi; Universitas Bina Insani
Abstract
The use of technology automatically makes it easy to convey information. In this research, the use of technology can be done by using interactive animation to convey knowledge about ASEAN countries. The problem is that conventional methods are still used, namely only using books as a way of delivering learning material. Therefore, a learning medium is made using interactive animation, as a support in the delivery of learning material so that students are more enthusiastic about learning. The purpose of making this learning media is to help students get to know more deeply about ASEAN countries developed with Adobe Flash Professional CC 2015. This research uses the Multimedia Development Life Cycle (MDLC) method with six stages, namely: Concept, Design. (Design), Material Collecting, Assembly, Testing, and Distribution. The result of this research is an application to introduce ASEAN countries which is equipped with materials, games, videos and quizzes to train students' abilities.
Keywords: ASEAN, Interactive Animation, History, MDLC
Abstrak
Pemanfaatan teknologi secara otomatis memberi kemudahan dalam penyampaian sebuah informasi. Dalam penelitian ini pemanfaatan teknologi dapat dilakukan dengan menggunakan animasi interaktif untuk menyampaikan pengetahuan tentang negara-negara ASEAN. Permasalahan yang ada adalah masih digunakan metode konvensional yaitu hanya menggunakan buku sebagai salah satu cara penyampaian materi pembelajaran. Oleh karena itu, di buatlah suatu media pembelajaran dengan mengunakan animasi interaktif, sebagai pendukung dalam penyampaian materi pembelajaran agar siswa lebih semangat untuk belajar. Tujuan dari pembuatan media pembelajaran ini adalah untuk membantu siswa lebih mengenal secara dalam mengenai negara-negara ASEAN yang dikembangkan dengan Adobe Flash Profesional CC 2015. Penelitian ini mengunakan metode Multimedia Development Life Cycle (MDLC) dengan enam tahapan yaitu: Konsep (Concept), Perancangan (Design), Pengumpulan Bahan (Material Collecting), Pembuatan (Assembly), Pengujian (Testing), dan Distribusi (Distribution). Hasil dari penelitian ini adalah sebuah aplikasi pengenalan negara-negara ASEAN yang dilengkapi dengan materi, permainan, video dan kuis untuk melatih kemampuan siswa.
Kata kunci: ASEAN, Animasi Interaktif, Sejarah, Multimedia Develompment Life Cycle
Downloads
Download data is not yet available.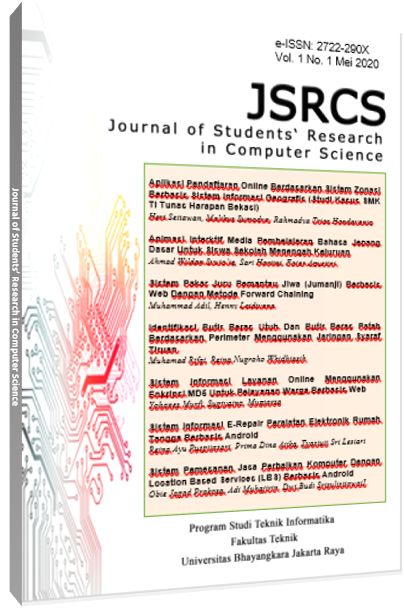 How to Cite
Saputra, P. A., & Retnoningsih, E. (2020). Animasi Interaktif Pengenalan Negara ASEAN Menggunakan Metode Multimedia Development Life Cycle. Journal of Students' Research in Computer Science, 1(2), 153 - 164. https://doi.org/10.31599/jsrcs.v1i2.406