Pemodelan Perencanaan Strategis Sistem Informasi Pada Industri Penjualan Otomotif Dengan Pendekatan Balanced Scorecard (Studi Kasus PT Hyundai Mobil Indonesia)
Andy Achmad Hendharsetiawan

Program Studi Informatika; Universitas Bhayangkara Jakarta Raya
Abstract
Automotive sales industries and businesses are businesses that have a great contribution to economic growth in the country.  Competition in the automotive sales business is also getting higher so it requires the need for the right business strategy to survive and grow. Most of these automotive businesses have utilized Information Technology (IT) to support their operations. However, the capability in planning, managing and implementing Information Systems and Information Technology (SI/IT) that is linked to the company's business strategy has not been fully implemented. Therefore, Strategic Planning of Information Systems is currently one of the keys in achieving the company's goals that must be aligned with the business strategy set by the company. The role of SI/IT should not only be an operational automation tool but more than that as an organizational key enabler.  The study was conducted for modeling SI/IT strategy plan based on Hyundai's business strategy using Ward & Peppard methodology, analysis with SWOT, Value Chain, Five Force which then mapped into Critical Succes Factor to obtain possible SI/IT strategies.
Keywords: Strategic Planning, Balanced Scorecard, Automotive Industry
Abstrak
Industri dan bisnis penjualan otomotif merupakan bisnis yang memiliki kontribusi besar terhadap pertumbuhan ekonomi di negeri ini.  Persaingan pada bisnis penjualan otomotif juga makin tinggi sehingga membutuhkan kebutuhan strategi bisnis yang tepat untuk bertahan dan tumbuh berkembang. Sebagian besar bisnis otomotif ini telah memanfaatkan Teknologi Informasi (TI) untuk menunjang operasionalnya. Namun kemampuan dalam perencanaan, pengelolaan serta implementasi Sistem Informasi dan Teknologi Informasi (SI/TI) yang dihubungkan dengan strategi bisnis perusahaan masih belum diterapkan sepenuhnya. Untuk itu Perencanaan Strategis Sistem Informasi saat ini merupakan salah satu kunci dalam pencapaian sasaran perusahaan yang harus diselaraskan dengan strategi bisnis yang ditetapkan oleh perusahaan. Peranan SI/TI yang ada sebaiknya tidak hanya sebagai alat otomasi operasional namun lebih dari itu sebagai key enabler organisasi.  Kajian yang dilakukan untuk pemodelan rencana strategi SI/TI berdasar strategi bisnis Hyundai dengan menggunakan metodologi Ward & Peppard, analisis dengan SWOT, Value Chain, Five Force yang kemudian dipetakan ke dalam Critical Succes Factor untuk mendapatkan strategi-strategi SI/TI yang memungkinkan.
Kata kunci: Perencanaan Strategis, Balanced Scorecard, Industri Otomotif
Downloads
Download data is not yet available.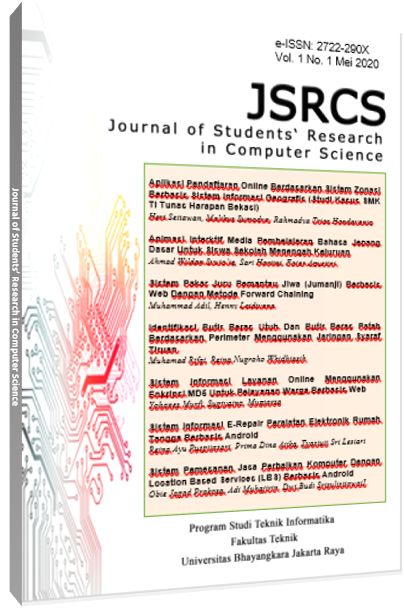 How to Cite
Hendharsetiawan , A. A. (2020). Pemodelan Perencanaan Strategis Sistem Informasi Pada Industri Penjualan Otomotif Dengan Pendekatan Balanced Scorecard (Studi Kasus PT Hyundai Mobil Indonesia). Journal of Students' Research in Computer Science, 1(2), 123 - 138. https://doi.org/10.31599/jsrcs.v1i2.425