Media Pembelajaran Tematik Integratif Dengan Pendekatan Ilmiah Scientific Approach Untuk Siswa Kelas II Sekolah Dasar
Andini Putri Ayu Wulandari

Program Studi Manajemen Informatika; Universitas Bina Insani

Syahbaniar Rofiah

Program Studi Manajemen Informatika; Universitas Bina Insani
Abstract
The development of increasingly sophisticated technology in the era of globalization today helps people in their lives is no exception to the world of education. Modernization not only touches on the realm of community life but on learning for Indonesian students. Learning done in schools is only done by direct or conventional practice whereas with modernization in learning, students should have used modern tools in learning lessons.  The materials contained in many handbooks require more tangible visualization, not just text and images. One of the learning support tools is learning media, especially multimedia. Therefore, Integrative Thematic Learning Media with Scientific Scientific Approach at SDN Bekasi Jaya VIII is needed to use ADDIE (Analysis, Design, Development, Implementation and Evaluate) method to attract students in learning each material with interesting animation design.
Keywords: ADDIE, Learning Media, Scientific Approach, Thematic Integrative
Abstrak
Perkembangan teknologi semakin canggih di era globalisasi saat ini membantu manusia dalam kehidupannya tidak terkecuali dengan dunia pendidikan. Modernisasi bukan hanya menyentuh pada ranah kehidupan bermasyarakat namun pada pembelajaran bagi murid Indonesia. Pembelajaran yang dilakukan di sekolah hanya dilakukan dengan praktek langsung atau konvensional padahal dengan adanya modernisasi dalam pembelajaran seharusnya murid sudah menggunakan alat yang telah modern dalam mempelajari pelajaran.  Materi-materi yang termuat dalam buku pegangan banyak yang membutuhkan visualisasi yang lebih nyata, bukan hanya dengan teks dan gambar. Salah satu alat pendukung pembelajarannya yaitu media pembelajaran, khususnya multimedia. Oleh karena itu dibutuhkan Media Pemelajaran Tematik Integratif dengan Pendekatan Ilmiah Scientific Approach pada SDN Bekasi Jaya VIII yang dalam pembuatannya menggunakan metode ADDIE (Analysis, Design, Development, Implementation and Evaluate) untuk menarik perhatian peserta didik dalam mempelajari setiap materi dengan desain animasi yang menarik.
Kata kunci: ADDIE, Media Pembelajaran, Scientific Approach, Tematik Integratif
Downloads
Download data is not yet available.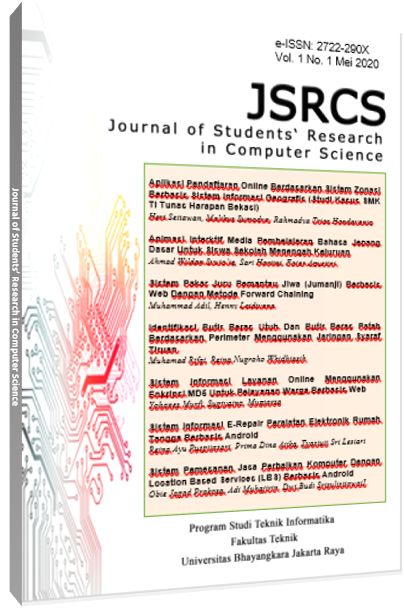 How to Cite
Wulandari , A. P. A., & Rofiah, S. (2020). Media Pembelajaran Tematik Integratif Dengan Pendekatan Ilmiah Scientific Approach Untuk Siswa Kelas II Sekolah Dasar. Journal of Students' Research in Computer Science, 1(2), 139 - 152. https://doi.org/10.31599/jsrcs.v1i2.427