Aplikasi Pendeteksi Kebocoran Gas LPG Berbasis Wemos ESP8266 Menggunakan Peringatan Notifikasi Pada Whatsapp
Keywords:
mikrokontroller, gas LPG, wemos D1, sensor MQ-2
Abstract
Abstract
LPG gas leaks are often not noticed by people around them, plus there is no special warning system that detects the LPG gas leak. That can increase the chance of fire. This study aims to build a LPG gas leak detection system as an early warning so that people are safer in using the gas for their daily activities. This system is built using the prototype method, with Wemos D1 EPS8266 as the microcontroller, and whatsapp as a platform to receive notification alerts. Then the result is that the system can send notifications via Whatsapp at online and realtime when there is an indication of an LPG gas leak.
Keywords: Microcontroller, MQ-2 Censor, LPG Gas, Wemos D1
Abstrak
Kebocoran gas LPG seringkali tidak disadari oleh orang sekitar, ditambah tidak adanya sistem peringatan khusus yang mendeteksi adanya kebocoran gas LPG tersebut. Hal itu dapat menambah kemungkinan kebakaran semakin meningkat. Penelitian ini bertujuan untuk membangun sistem pendeteksi kebocoran gas LPG sebagai peringatan dini agar masyarakat lebih aman dalam menggunakan gas tersebut untuk kesehariannya. Sistem ini dibuat menggunakan metode prototype, dengan wemos D1 EPS8266 sebagai mikrokontrollernya, dan whatsapp sebagai platform untuk menerima peringtan notifikasinya. Maka hasilnya sistem dapat mengirimkan notifikasi melalui whatsapp secara online dan realtime saat terindikasi adanya kebocoran gas LPG.
Kata kunci: Mikrokontroller, Gas LPG, wemos D1, sensor MQ-2
Downloads
Download data is not yet available.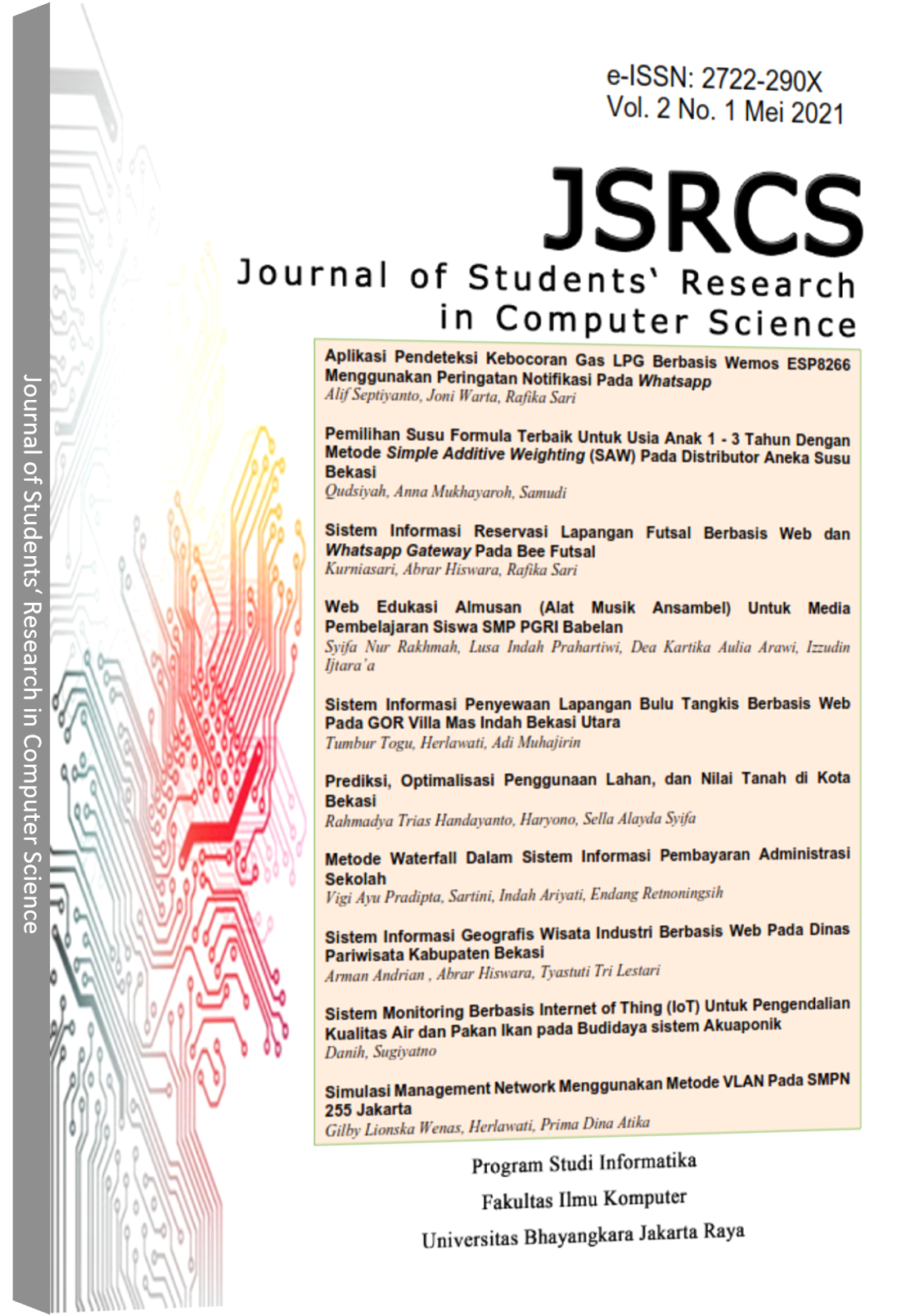 Downloads
How to Cite
Septiyanto, A., Warta, J., & Sari, R. (2021). Aplikasi Pendeteksi Kebocoran Gas LPG Berbasis Wemos ESP8266 Menggunakan Peringatan Notifikasi Pada Whatsapp. Journal of Students' Research in Computer Science, 2(1). https://doi.org/10.31599/jsrcs.v2i1.549