Sistem Informasi Reservasi Lapangan Futsal Berbasis Web dan Whatsapp Gateway Pada Bee Futsal
Kurniasari Kurniasari

Program Studi Informatika, Fakultas Ilmu Komputer, Universitas Bhayangkara Jakarta Raya

Abrar Hiswara

Program Studi Informatika, Fakultas Ilmu Komputer, Universitas Bhayangkara Jakarta Raya

Rafika Sari

Program Studi Informatika, Fakultas Ilmu Komputer, Universitas Bhayangkara Jakarta Raya

https://orcid.org/0000-0002-8433-2605
Keywords:
sistem informasi, web, reservasi, futsal, whatsapp, waterfall
Abstract
Abstract
This study discusses the making of a field reservation information system with the aim of making it easier for customers to make field reservations at Bee Futsal, making it easier for Bee Futsal staff in managing field reservation data, and minimizing the risk of data loss, and can simplify information about the time delay limit according to the schedule. determined. This information system development uses the programming language PHP, HTML, and Java Script and uses the MySQL database. This information system development method uses the waterfall method. The results of this study can be implemented in the form of a web-based field reservation information system and whatsapp gateway.
Keywords: Field Reservation, Information System, Web Based, Waterfall, Whatsapp Gateway
Abstrak
Penelitian ini membahas tentang pembuatan sistem informasi reservasi lapangan dengan tujuan untuk mempermudah customer dalam melakukan reservasi lapangan pada Bee Futsal, mempermudah staff Bee Futsal dalam pengelolaan data reservasi lapangan, dan meminimalisir resiko kehilangan data, Sisa mempermudah informasi mengenai batas keterlambatan waktu sesuai jadwal yang telah ditentukan.  Pengembangan sistem informasi ini menggunakan bahasa pemrograman PHP, HTML, dan Java Script serta menggunakan database MySQL. Metode pengembangan sistem informasi ini menggunakan metode waterfall. Hasil dari penelitian ini dapat diimplementasikan dalam bentuk sistem informasi reservasi lapangan berbasis web dan whatsapp gateway.
Kata kunci: Sistem Informasi, Berbasis Web, Reservasi Lapangan, Waterfall, Whatsapp Gateway.
Downloads
Download data is not yet available.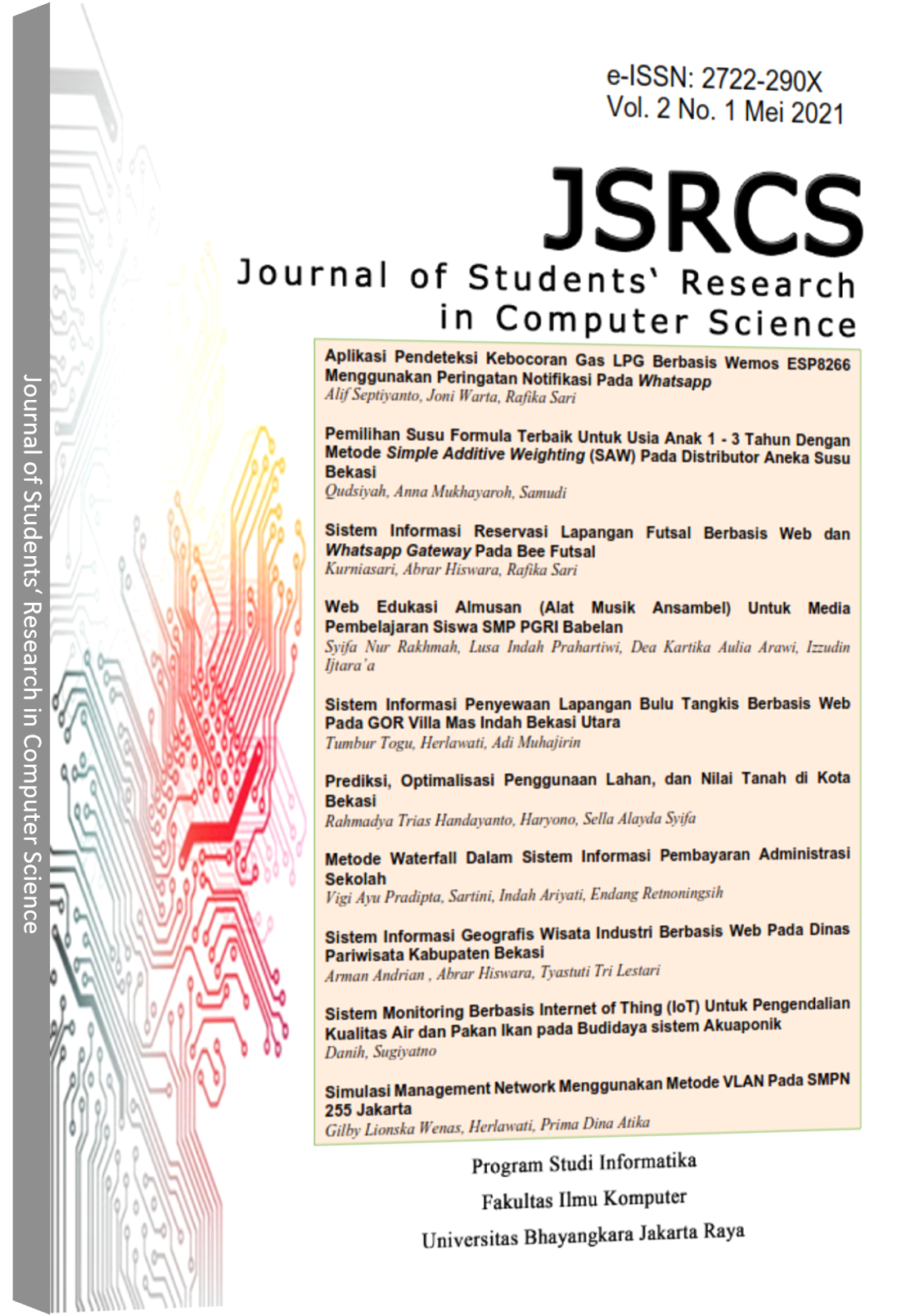 How to Cite
Kurniasari, K., Hiswara, A., & Sari, R. (2021). Sistem Informasi Reservasi Lapangan Futsal Berbasis Web dan Whatsapp Gateway Pada Bee Futsal. Journal of Students' Research in Computer Science, 2(1), 23 - 32. https://doi.org/10.31599/jsrcs.v2i1.550