Metode Waterfall Dalam Sistem Informasi Pembayaran Administrasi Sekolah
Vigi Ayu Pradipta

Program Studi Sistem Informasi Akuntansi; Universitas Bina Sarana Informatika

Sartini Sartini

Program Studi Teknik Informatika; Universitas Nusa Mandiri

Indah Ariyati

Program Studi Sistem Informasi; Universitas Bina Sarana Informatika

Endang Retnoningsih

Program Studi Teknik Komputer; Universitas Islam 45 Bekasi
Keywords:
Information System, Payment, Waterfall, Sistem Informasi, Pembayaran
Abstract
Abstract
School administration payments as a means of supporting the teaching and learning process, administrative payments that are still manual must be supported by a computerized system. The research method I use is a data collection technique consisting of observation, interviews and literature study, while the software development method is the waterfall method. The waterfall method consists of software requirements analysis, design, coding, testing and support. The author builds a school administration payment information system using the Java NetBeans IDE 8.1 programming language. By building a computerized system, it is hoped that it will be able to produce more precise and accurate information to help minimize errors. Information systems can run well with the support of technology, work procedures and good human resources
Keywords: Information System, Payment, Waterfall
Abstrak
Pembayaran administrasi sekolah sebagai sarana penunjang berjalannya proses belajar – mengajar, pembayaran administrasi yang masih manual harus didukung dengan system yang sudah terkomputerisasi. Metode penelitian yang peneliti gunakan yaitu teknik dalam mengumpulkan data terdiri dari observasi, wawancara dan studi Pustaka sedangkan metode pengembangan software adalah metode waterfall. Metode waterfall terdiri dari analisis untuk kebutuhan perangkat lunak, perancangan, pengkodean, pengujian dan pendukung. Peneliti membangun sistem informasi pembayaran administrasi sekolah menggunakan bahasa pemrograman Java NetBeans IDE 8.1. Dengan membangun sistem terkomputerisasi diharapkan mampu menghasilkan informasi yang lebih tepat dan akurat guna membantu meminimalisir terjadinya kesalahan. Sistem informasi dapat berjalan dengan baik dengan dukungan teknologi,  prosedur kerja dan sumber daya manusia yang baik.
Kata kunci: Sistem Informasi, Pembayaran, Waterfall
Downloads
Download data is not yet available.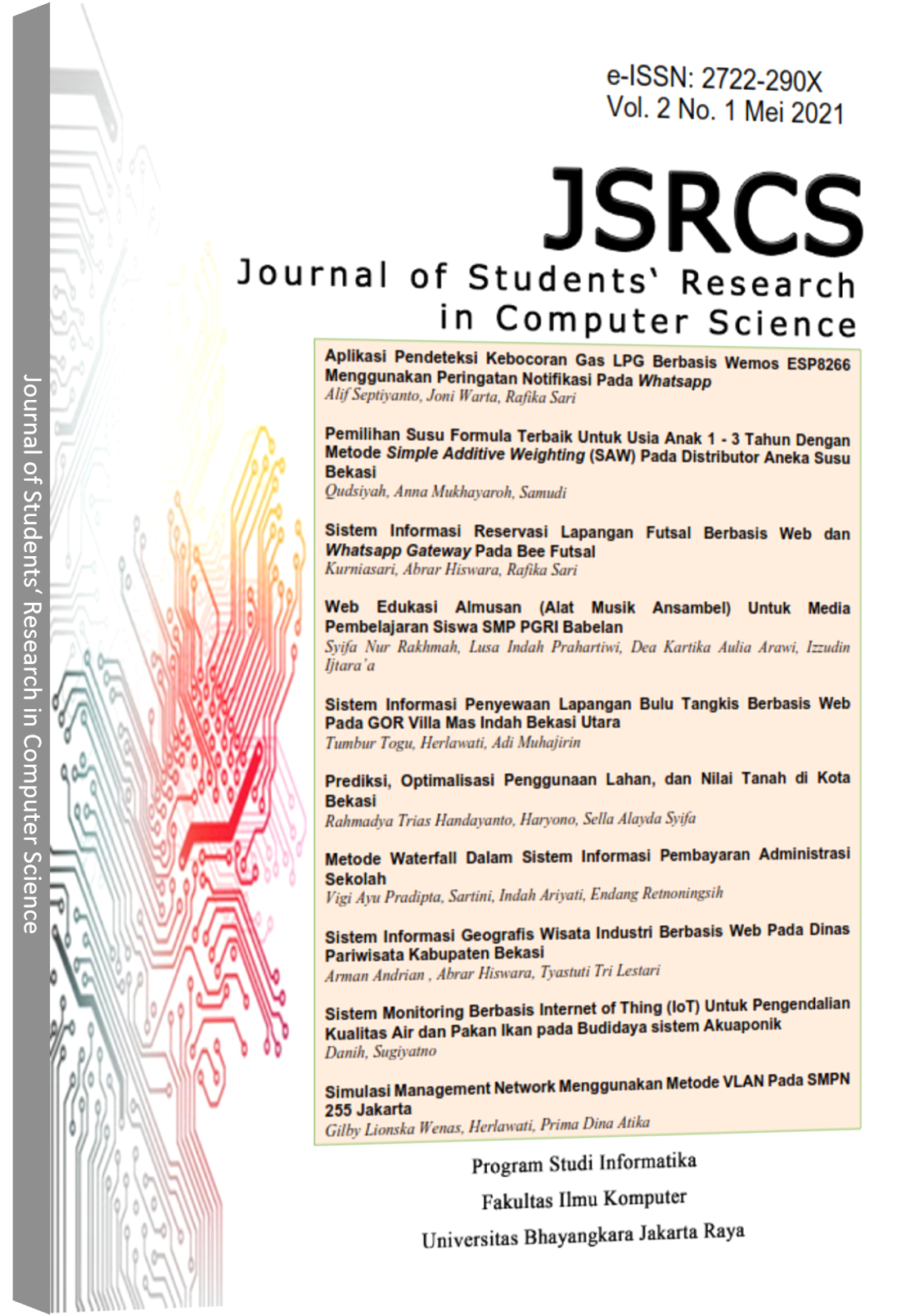 How to Cite
Ayu Pradipta, V., Sartini, S., Ariyati , I., & Retnoningsih, E. (2021). Metode Waterfall Dalam Sistem Informasi Pembayaran Administrasi Sekolah. Journal of Students' Research in Computer Science, 2(1), 65 - 76. https://doi.org/10.31599/jsrcs.v2i1.637