Simulasi Management Network Menggunakan Metode VLAN Pada SMPN 255 Jakarta
Keywords:
Mikrotik, Network Design, Network Management, NDLC, VLAN, Perancangan Jaringan, Management Network
Abstract
Abstract
 The need for network technology cannot be avoided anymore because of its very pronounced benefits, where the network can help communication in sharing information and data by cutting time and distance. Internet is an indispensable need, especially in education, network quality, distribution or network segmentation, the hardware used, especially SMPN 255 Jakarta. The development method used by NDLC. Data collection is the interview method, observation, literature study, network network design using Star Topology, a network simulation system built using the media routerboard 750 hEX lite as the main router as well as a router for network distribution. It is hoped that this can help SMPN 255 Jakarta a little in distributing the existing local network according to the needs and increasing existing users, then providing convenience in network system maintenance or changes. The result is the successful configuration for implementing VLANs on the Jakarta 255 SMPN network to be able to distribute the network and use the existing features optimally so that it can develop the existing network but at a cost that is not that big.
Keywords: Mikrotik, Network Design, Network Management, NDLC, VLAN.
Abstrak
Kebutuhan akan teknologi jaringan tidak dapat dihindari lagi karena manfaatnya yang sangat terasa, dimana jaringan dapat membantu komunikasi dalam pembagian informasi maupun data dengan memangkas waktu dan jarak. Internet merupakan suatu kebutuhan yang sangat diperlukan, terutama dalam pendidikan, kualitas jaringan, pendistribusian atau segmentasi jaringan, perangkat keras yang digunakan khususnya SMPN 255 Jakarta. Metode pengembangan yang digunakan NDLC. Pengumpulan data yaitu metode wawancara, observasi, studi pustaka, Perancangan jaringan jaringan menggunakan Topologi Star, sistem simulasi jaringan yang dibangun menggunakan media routerboard 750 hEX lite sebagai router utama sekaligus router untuk mendistribusi jaringan. Diharapkan ini bisa sedikit membantu SMPN 255 Jakarta dalam mendistribusikan jaringan lokal yang ada sesuai dengan kebutuhan dan peningkatan pengguna yang ada, kemudian memberikan kemudahan dalam pemeliharaan sistem jaringan ataupun perubahan. Hasil yang ada berupa berhasilnya konfigurasi untuk penerapan VLAN pada jaringan SMPN 255 Jakarta untuk dapat mendistribusikan jaringan dan penggunaan fitur yang ada dimanfaatkan dengan optimal sehingga dapat mengembangkan jaringan yang ada namun dengan biaya yang tidak begitu besar.
Kata kunci: Mikrotik, Management Network, NDLC, Perancangan Jaringan, VLAN.
Downloads
Download data is not yet available.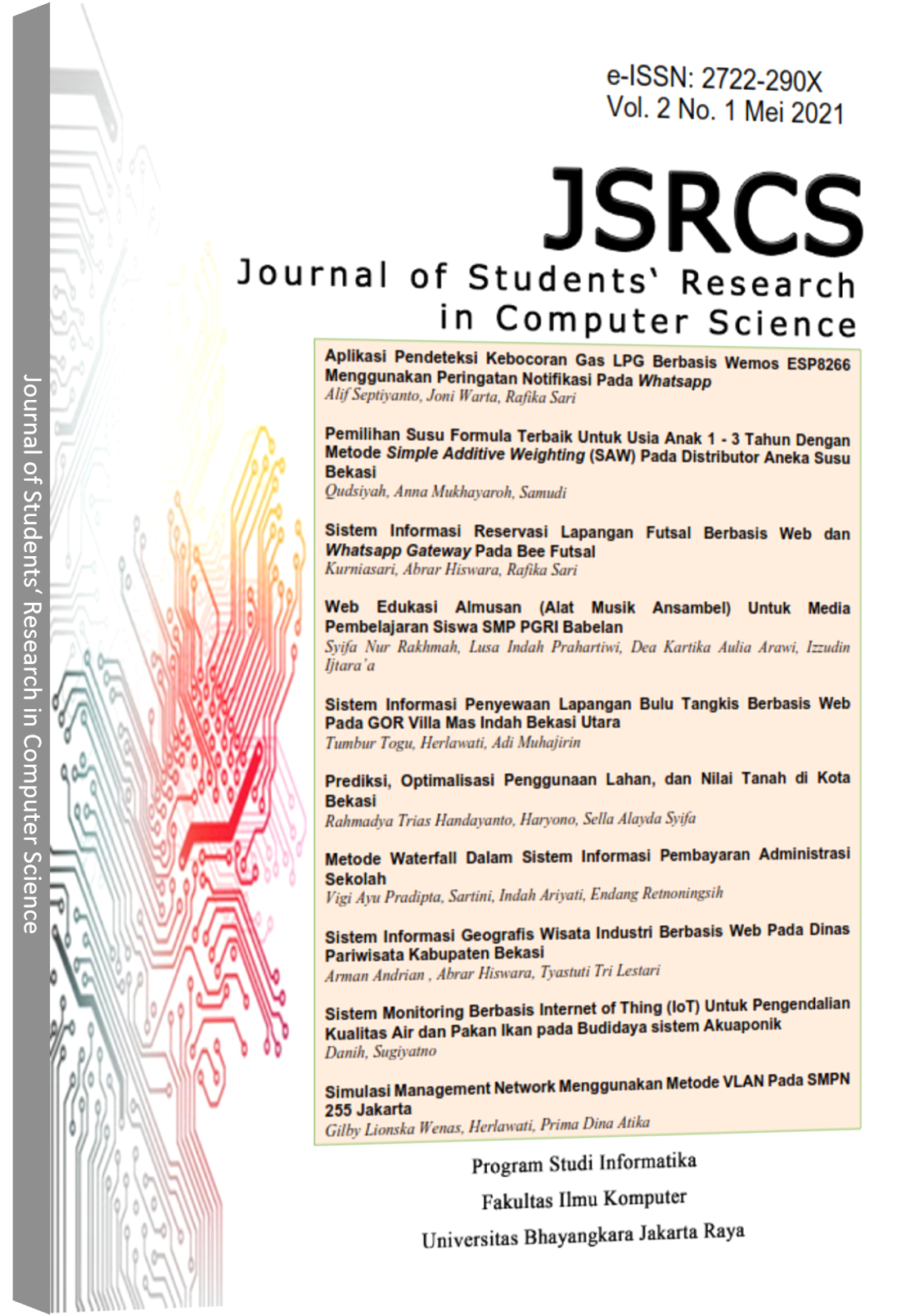 Downloads
How to Cite
Wenas, G. L. ., Herlawati, H., & Atika, P. D. (2021). Simulasi Management Network Menggunakan Metode VLAN Pada SMPN 255 Jakarta. Journal of Students' Research in Computer Science, 2(1). https://doi.org/10.31599/jsrcs.v2i1.638