Web Edukasi Almusan (Alat Musik Ansambel) Untuk Media Pembelajaran Siswa SMP PGRI Babelan
Syifa Nur Rakhmah

Program Studi Sistem Informasi; Universitas Nusa Mandiri

Lusa Indah Prahartiwi

Program Studi Sistem Informasi; Universitas Nusa Mandiri

Dea Kartika Aulia Arawi

Program Studi Sistem Informasi; Universitas Nusa Mandiri

Izzudin Ijtara'a

Program Studi Sistem Informasi; Universitas Nusa Mandiri
Keywords:
Ensemble, Learning Media, Educational Website, Ansambel, Media Pembelajaran, Web Edukasi
Abstract
Abstract
The art of music in learning arts and culture is conveyed by the medium of sound or tone, either the human voice or the sound of a musical instrument. One of the learning materials for the art of music is ensemble music. An ensemble is playing music together using several musical instruments and then playing a song with a simple arrangement. A good learning process is needed. Teachers and teachers of SMP PGRI Babelan experienced obstacles in the delivery of ensemble musical instrument material. Less effective learning media has an impact on students' understanding of the material. Therefore, an alternative solution for technological innovation is to create interactive website-based learning media to make learning easier. The almusan educational web is designed using images, videos, including musical instruments simulators that will make it easier for students and teachers to understand and understand compared to previous learning methods. With the existence of musical instruments, it virtually increases students' interest in learning ensemble musical instruments with the concept of theoretical and practical assessment.
Keywords: Ensemble, Learning Media, Educational Website
Abstrak
Seni musik dalam pembelajaran seni budaya di sampaikan dengan media suara atau nada, baik suara manusia atau suara alat musik. Salah satu materi pembelajaran seni musik yaitu musik ansambel. Ansambel adalah bermain musik secara bersama – sama dengan menggunakan beberapa alat musik dan kemudian memainkan lagu dengan aransemen yang sederhana. Proses pembelajaran yang baik sangat di butuhkan. Guru maupun pengajar SMP PGRI Babelan mengalami kendala terhadap penyampaian materi alat musik ansambel. Media pembelajaran yang kurang efektif berdampak kurang nya siswa memahami materi. Maka dari itu solusi alternatif inovasi teknologi yaitu  menciptakan media pembelajaran berbasis website yang interaktif supaya memudahkan dalam pembalajaran. Web edukasi almusan dirancang dengan menggunakan gambar, video disertakan alat musik simulator yang akan memudahkan bagi siswa dan guru  untuk mengerti dan memahami dibandingankan dengan metode pembelajaran sebelumnya. Dengan adanya alat musik secara virtual meningkatkan minat siswa untuk memepelajari alat musik ansambel dengan konsep penilian teori dan praktek.
Kata kunci: Ansambel, Media Pembelajaran, Web Edukasi
Downloads
Download data is not yet available.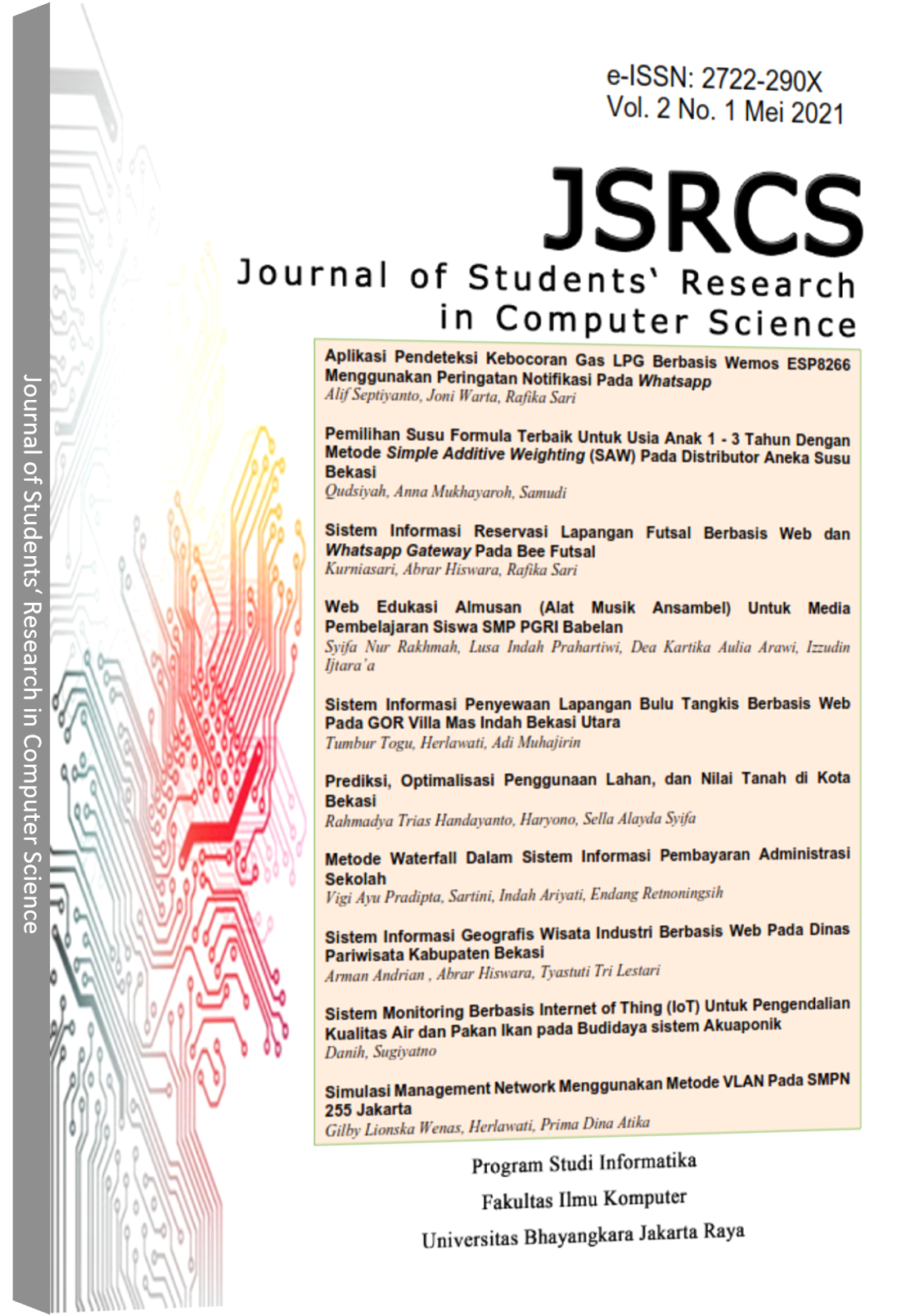 How to Cite
Rakhmah, S. N., Prahartiwi , L. I., Arawi , D. K. A., & Ijtara'a, I. (2021). Web Edukasi Almusan (Alat Musik Ansambel) Untuk Media Pembelajaran Siswa SMP PGRI Babelan. Journal of Students' Research in Computer Science, 2(1), 33 - 46. https://doi.org/10.31599/jsrcs.v2i1.642