Sistem Monitoring Berbasis Internet of Thing (IoT) Untuk Pengendalian Kualitas Air dan Pakan Ikan pada Budidaya sistem Akuaponik
Keywords:
Aquaponics, DHT11, Internet of Thing (IoT), NodeMCU Blynk, Turbidity
Abstract
Abstract
The Internet of Thing (IoT) based monitoring system for controlling routines in aquaponics systems aims to facilitate farmers in carrying out maintenance on cultivation such as feeding fish, checking and controlling water quality and monitoring temperature and humidity. This system uses an android application called Blynk which is connected using an internet connection with NodeMCU which also acts as a brain that processes input from sensors (pH, Turbidity and DHT11 sensors) and outputs in the form of commands for relays and data sent back to Blynk applications so that the Aquaponics farmers can see the conditions on their farm and control those conditions wherever they are.
Keywords: Aquaponics, DHT11, Internet of Thing (IoT), NodeMCU Blynk, Turbidity.
Abstrak
Sistem monitoring berbasis internet of thing (IoT) untuk pengendalian rutinitas pada budi daya sistem akuaponik ini bertujuan untuk mempermudah para petani dalam melakukan perawatan pada budi daya seperti pemberian pakan untuk ikan, pengecekan dan pengendalian kualitas air serta monitoring suhu dan kelembaban. Sistem ini menggunakan aplikasi android yang bernama Blynk yang tersambung menggunakan sambungan internet dengan NodeMCU yang bertindak juga sebagai otak yang memproses input dari sensor (sensor pH, Turbidity dan DHT11) dan output berupa perintah untuk relay serta data yang di kirim kembali ke aplikasi Blynk agar para petani akuaponik bisa melihat kondisi pada pertanian mereka serta mengendalikan kondisi tersebut dimanapun mereka berada.
Kata kunci: Akuaponik, DHT11, Internet of Thing (IoT), NodeMCU Blynk, Turbidity.
Downloads
Download data is not yet available.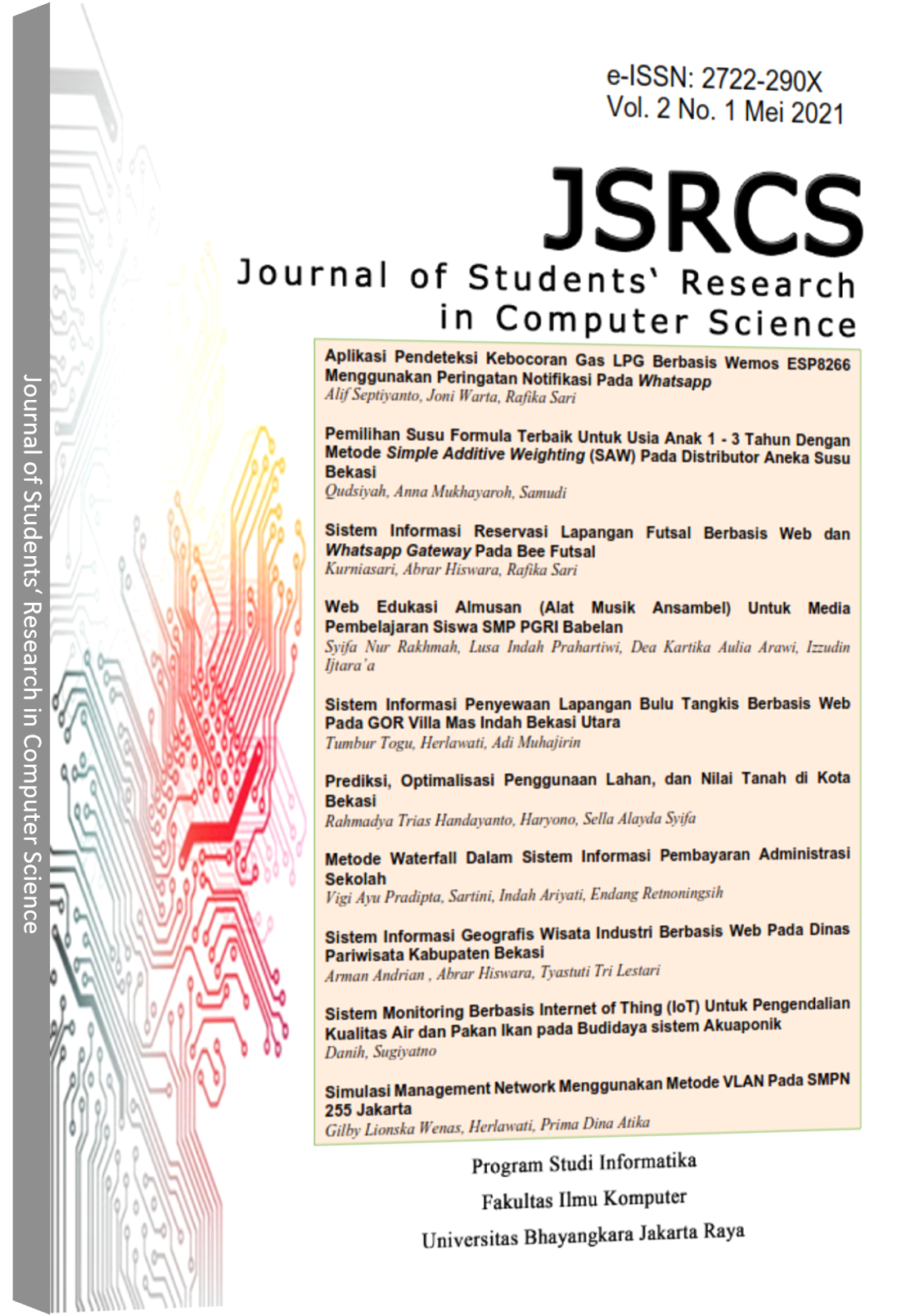 Downloads
How to Cite
Danih , D., & Sugiyatno, S. (2021). Sistem Monitoring Berbasis Internet of Thing (IoT) Untuk Pengendalian Kualitas Air dan Pakan Ikan pada Budidaya sistem Akuaponik. Journal of Students' Research in Computer Science, 2(1). https://doi.org/10.31599/jsrcs.v2i1.665