Independensi L/C Terhadap Kontrak Dasar Dari Perspektif Hukum Dagang Internasional
Yulianto Syahyu

Fakultas Hukum, Universitas Bhayangkara Jakarta Raya
Keywords:
Letter of Credit, Independensi L/C, Hukum Dagang Internasional
Abstract
Letter of Credit selanjutnya disebut L/C, digunakan untuk membiayai sales contract jarak jauh antara pembeli dan penjual yang belum saling mengenal dengan baik. Kehadiran L/C digunakan untuk membiayai transaksi perdagangan internasional. L/C muncul dalam mekanisme perdagangan internasional atau antar pulau sebagai menifestasi dari kontrak dagang (sales contract) antara penjual dan pembeli sebagai kontrak dasar yang disepakati mengenai syarat pembayaran transaksi mereka. Sales contact sendiri adalah kesepakatan yang dibuat oleh penjual dan pembeli untuk melakukan jual beli barang atau jasa yang berisi butir-butir persyaratan yang mereka setujui. L/C didefinisikan sebagai jaminan pembayaran oleh Bank secara bersyarat, sedangkan arti yang luasnya yaitu L/C didefinisikan sebagai jaminan tertulis dari sebuah bank kepada seller (beneficiary) atas permintaan buyer (applicant accountee) untuk melakukan pembayaran, yaitu membayar, mengaksep atau menegosiasi wesel sampai dengan sejumlah uang tertentu yang telah ditetapkan sebelumnya atas dokumen-dokumen yang disyaratkan dalam suatu jangka waktu tertentu. L/C secara hukum merupakan kontrak yang independen dari kontrak dasarnya yaitu kontrak penjualan dan permintaan penerbitan L/C, keberhasilan pelaksanaan L/C sangat tergantung pada penerapan prinsip independensi. Prinsip independensi ini sejalan dengan Absolute Payment Theory. Teori ini mengatakan bahwa dengan penerbitan L/C maka telah memenuhi kewajibannya berdasarkan L/C tersebut, penjual tidak dapat menuntut pembayaran mutlak. Dengan demikian, L/C terpisah (independen) dari kontrak penjualan sebagai kontrak dasar. Pengecualian terhadap prinsip independensi adalah penipuan dan likuidasi bank
Downloads
Download data is not yet available.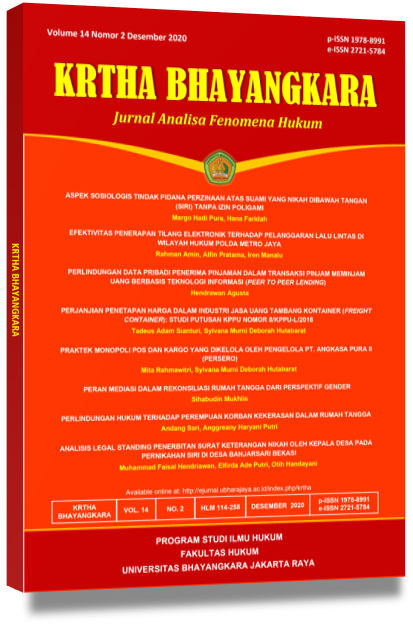 How to Cite
Syahyu, Y. (2020). Independensi L/C Terhadap Kontrak Dasar Dari Perspektif Hukum Dagang Internasional. KRTHA BHAYANGKARA, 14(1), 27-50. https://doi.org/10.31599/krtha.v14i1.36
Authors who publish with this journal agree to the following terms:
Authors retain copyright and grant the journal right of first publication with the work simultaneously licensed under a Creative Commons Attribution License that allows others to share the work with an acknowledgment of the work's authorship and initial publication in this journal.
Authors are able to enter into separate, additional contractual arrangements for the non-exclusive distribution of the journal's published version of the work (e.g., post it to an institutional repository or publish it in a book), with an acknowledgment of its initial publication in this journal.
Authors are permitted and encouraged to post their work online (e.g., in institutional repositories or on their website) prior to and during the submission process, as it can lead to productive exchanges, as well as earlier and greater citation of published work (See The Effect of Open Access).