Pelarangan Pihak Asing sebagai Pemberi Sumbangan Dana Kampanye Pemilu
Hesti Widyaningrum

Fakultas Hukum, Universitas Bhayangkara Jakarta Raya
Keywords:
Pelarangan, Pihak Asing, Dana Kampanye, Pemilu
Abstract
Penulisan ini menganalisa alasan pentingnya pelarangan pihak asing sebagai pemberi sumbangan dana kampanye Pemilu dan dampaknya. Hasilnya Peraturan yang bersebrangan antara pelarangan menerima sumbangan dana kampanye dari pihak asing dan diperbolehkannya Peserta Pemilu menerima dari perusahaan. Padahal antara perusahaan dan pihak asing saling berkaitan satu sama lain jika melibatkan Investor dan lembaga swasta asing dalam permodalan perusahaan. Pelarangan tersebut tidak menutup celah bagi pihak asing terlibat sebagai pendonor kampanye. Ditambah, tidak adanya sanksi terhadap pihak asing yang berkontribusi dalam dana kampanye, semakin membuat pihak asing lebih leluasa terlibat dalam urusan politik di Indonesia. Pasalnya Investasi Asing mendominasi permodalan di Indonesia. Otomatis, ini berpotensi terjadinya transaksi antara pihak Asing untuk mengintervensi kebijakan negara untuk kepentingannya, sebaliknya kepentingan publik terabaikan. Politik transaksional ini membuat peserta pemilu melakukan berbagai cara untuk mendulang suara seperti vote buyying. Akhirnya, Pemilu menjadi ajang jual-beli, sehingga suara pemilih hanya menjadi komoditas dalam logika ekonomi. Adanya Kekosongan hukum ini, maka perlu ditambahkannya klausul baru dalam Pasal 527 terhadap pihak asing sebagai pemberi sumbangan dana pemilu. Ini sebagai bentuk antisipasi keterlibatan pihak asing yang berkontribusi dana kampanye.
Downloads
Download data is not yet available.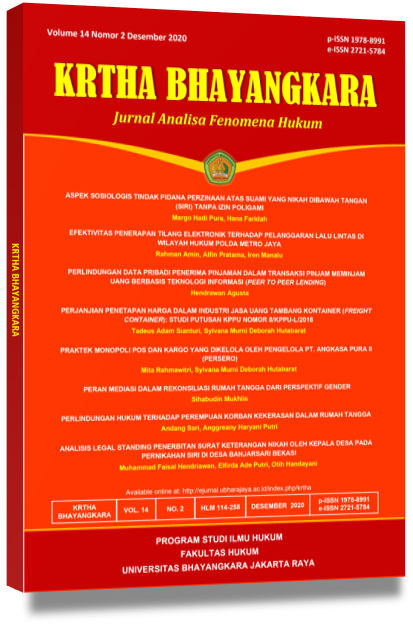 How to Cite
Widyaningrum, H. (2020). Pelarangan Pihak Asing sebagai Pemberi Sumbangan Dana Kampanye Pemilu. KRTHA BHAYANGKARA, 14(1), 70-85. https://doi.org/10.31599/krtha.v14i1.38
Authors who publish with this journal agree to the following terms:
Authors retain copyright and grant the journal right of first publication with the work simultaneously licensed under a Creative Commons Attribution License that allows others to share the work with an acknowledgment of the work's authorship and initial publication in this journal.
Authors are able to enter into separate, additional contractual arrangements for the non-exclusive distribution of the journal's published version of the work (e.g., post it to an institutional repository or publish it in a book), with an acknowledgment of its initial publication in this journal.
Authors are permitted and encouraged to post their work online (e.g., in institutional repositories or on their website) prior to and during the submission process, as it can lead to productive exchanges, as well as earlier and greater citation of published work (See The Effect of Open Access).