Konsep Dasar Hukum Sebagai Norma Sosial (Studi Pada UU No 1 Tahun 1974 Dan Kompilasi Hukum Islam)
Suprihatin

universitas Islam "45" Bekasi
Keywords:
Hukum, Norma Sosial, Keadilan, Kemanfaatan, Institusi Sosial
Abstract
Tujuan dari penulisan makalah ini adalah untuk  mengetahui konsep dasar hukum sebagai norma sosial (studi pada UU No 1 tahun 1974 dan KHI). Focus kajian pada aspek nilai-nilai dasar hukum dan pada aspek penegakan hukum keluarga. Adapun yang menjadi alasan mengapa dua aspek tersebut perlu dikaji  karena  adanya fenomena unik dalam penerapan hukum keluarga yang belum bisa diterima seratus persen oleh masyarakat Indonesia tetapi eksistensinya masih dipertahankan oleh pemerintah. Metode yang digunakan dalam penulisan makalah ini adalah metode perpustakaan (library research). Makalah ini menghasilkan dua hal. Pertama, bahwa nilai-nilai dasar yang ada pada hukum keluarga di Indonesia adalah keadilan dan kemanfaatan. Kedua nilai tersebut saling menunjang. Namun kedua nilai dasar hukum tersebut belum menghasilkan ketertiban seratus persen dalam masyarakat.  Hal ini dikarenakan pilihan pemerintah dalam menggunakan metode perumusan hukum dengan metode analisis normative sehingga  tidak bersifat otoriter dan tidak memiliki sasaran untuk mengharuskan  masyarakat untuk tunduk pada hukum keluarga secara paksa. Namun kekurangan metode ini dapat ditutupi dengan konten hukum yang berkemampuan untuk merubah masyarakat untuk mentransformasi diri tunduk pada hukum keluarga ketika sudah mendapatkan pemahaman yang tepat dan apabila mendapatkan permasalahan hukum. Kedua, Penegakan hukum keluarga Islam telah ditunjang oleh pranata hukum dan pranata sosial. Sebagian masyarakat telah mengunakan pranata tersebut dalam mendapatkan keadilan dan kemanfaatan, sehingga hukum keluarga dapat berfungsi sebagai institusi sosial yang melindungi masyarakat.
Downloads
Download data is not yet available.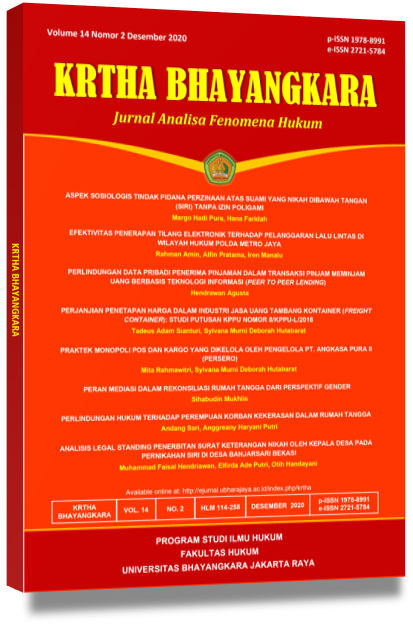 How to Cite
Suprihatin. (2020). Konsep Dasar Hukum Sebagai Norma Sosial (Studi Pada UU No 1 Tahun 1974 Dan Kompilasi Hukum Islam). KRTHA BHAYANGKARA, 14(1), 102-113. https://doi.org/10.31599/krtha.v14i1.49
Copyright (c) 2020 Suprihatin
This work is licensed under a Creative Commons Attribution-NonCommercial 4.0 International License.
Authors who publish with this journal agree to the following terms:
Authors retain copyright and grant the journal right of first publication with the work simultaneously licensed under a Creative Commons Attribution License that allows others to share the work with an acknowledgment of the work's authorship and initial publication in this journal.
Authors are able to enter into separate, additional contractual arrangements for the non-exclusive distribution of the journal's published version of the work (e.g., post it to an institutional repository or publish it in a book), with an acknowledgment of its initial publication in this journal.
Authors are permitted and encouraged to post their work online (e.g., in institutional repositories or on their website) prior to and during the submission process, as it can lead to productive exchanges, as well as earlier and greater citation of published work (See The Effect of Open Access).