THE EXISTENCE OF MASLAHAH MURSALAH AS THE BASIS OF ISLAMIC LAW DEVELOPMENT IN INDONESIA
Keywords:
eksistensi, maslahah mursalah, hukum Islam
Abstract
Makalah ini bertujuan untuk menganalisis konsepsi maslahah dalam wacana perkembangan hukum Islam. Selanjutnya, makalah ini menguraikan keberadaan masalah dan melihat lebih dalam ke dalam implementasi masalah sebagai dasar untuk pengembangan hukum Islam di Indonesia. Makalah ini adalah yuridis normatif menggunakan pendekatan doktrinal. Pada akhirnya, dapat disimpulkan bahwa konsepsi maslahah adalah metode penggalian hukum Islam yang didasarkan pada aspek manfaat dan kebaikan bagi manusia selama tidak bertentangan dengan norma syariah Islam. Selain itu, implementasi masalah sebagai dasar untuk penemuan hukum Islam di Indonesia tidak dapat disangkal. Hal ini dapat dilihat dari daruratnya undang-undang atau peraturan di bawahnya yang mengatur berbagai aspek hukum Islam di Indonesia dalam menanggapi masalah kehidupan masyarakat sebagai dampak dari zaman dan teknologi.
Downloads
Download data is not yet available.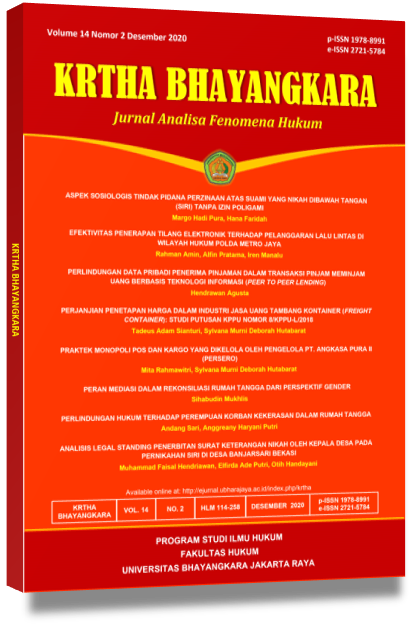 Downloads
How to Cite
Rohman, A. N. (2019). THE EXISTENCE OF MASLAHAH MURSALAH AS THE BASIS OF ISLAMIC LAW DEVELOPMENT IN INDONESIA. KRTHA BHAYANGKARA, 13(2). https://doi.org/10.31599/krtha.v13i2.9