Pengembangan Model Latihan Passing Dan Movement Without The Ball Futsal Pada Kegiatan Ekstrakulikuler Sekolah Menengah Atas Berbasis Games Kompetisi
Fahmi Idris

Universitas Singeperbangka Karawang

Febi Kurniawan

Universitas Singeperbangka Karawang

Akhmad Dimyati

Universitas Singeperbangka Karawang
Keywords:
futsal, passing, Movement without, Latihan passing Dan Movement Without The Ball
Abstract
Penelititan ini menjelaskan mengenai pengembangan model latihan passing & movement without the ball pada permainan futsal. Pada penelitian ini, peneliti bekerja sama dengan 3 (tiga) ahli dalam bidang olahraga futsal. Melalui uji validasi yang dilakukan dengan menggunakan uji justifikasi ahli, penelitian ini menghasilakn produk berupa model latihan passing dan movement without the ball pada permainan futsal sebanyak 15 (lima belas) item model. Tujuan dari penelitian ini untuk dapat dijadikan bahan referensi oleh para pelatih dalam memberi model latihan futsal. Penelitian ini dilakukan di SMA Negri 1 Telukjambe dengan mengambil peserta yang mengikuti kegiatan ekstrakulikuler futsal, untuk menjawab rumusan masalah penelitian yang telah dirumuskan, penulisan menggunakan pendekatan kualitatif deskriftip dengan metode research and development (R&D). Subjek pada penelitian ini berjumlah 23 (dua puluh tiga) anggota dari peserta ekstrakulikuler yang terdapat di dua sekolah menengah atas.
Downloads
Download data is not yet available.
References
Abdul, A. W. (2007). Metode dan Model-Model Mengajar. Alfabeta.
Dimyati, A. (2017). Pengembangan Model Permainan Atletik Anak Dalam Pembelajaran Gerak Dasar Lari Bagi Siswa Berkebutuhan Khusus (Tunarungu) Di SLB Negeri Kabupaten Karawang. Journal Sport Area, 2(2), 19–26. https://doi.org/https://doi.org/10.25299/sportarea.2017.vol2(2).1031
Fernando, A., & Ronni, Y. (2020). Pengaruh Latihan dengan Metode Massed Practice dan Distributed Practice terhadap Kemampuan Three Point Shoot Bolabasket. Jurnal Patriot, 2(1), 1–14. https://doi.org/https://doi.org/10.24036/patriot.v2i1.537
Kurniawan, F. (2017). Efektivitas Model Latihan Passing Control Febi Futsal Games Terhadap Peningkatan Hasil Passing Control Olahraga Futsal Untuk Pemain Pemula. Motion: Jurnal Riset Physical Education, 8(2), 214–222. https://doi.org/https://doi.org/10.33558/motion.v8i2.224
Margono. (2010). Metodologi Penelitian Pendidikan. Rineka Cipta.
Maryati. (2012). Mengenal Olahraga Futsal. PT. Balai Pustaka.
Murhananto. (2008). Dasar-Dasar Permainan Futsal. Kawan Pustaka. https://books.google.co.id/books?id=IlGUOTt_XvoC&lpg=PP1&hl=id&pg=PP1#v=onepage&q&f=false
Mylsidayu, A., & Kurniawan, F. (2017). Development of Futsal Basic Technique Training Model. JIPES (Journal of Indonesian Physical Education and Sport), 3(1), 26–32. https://doi.org/https://doi.org/10.21009/JIPES.031.04
Pasaribu, A. M. N., & Mashuri, H. (2019). The role of rhythmic gymnastics for physical fitness for elementary school students. Jurnal SPORTIF : Jurnal Penelitian Pembelajaran, 5(1 SE-Article), 89–97. https://doi.org/10.29407/js_unpgri.v5i1.12551
Rosdiani, D. (2012). Model Pembelajaran Langsung Dalam Pendidikan Jasmani Dan Kesehatan. Alfabeta.
Rukiyati. (2017). Pendidikan Moral di Sekolah. Jurnal Humanika, 17(1), 1–11. https://doi.org/https://doi.org/10.21831/hum.v17i1.23119
Scheunemann, T. (2014). Ayo Indonesia. Kurikulum dan Pedoman Dasar Sepak Bola Indonesia. PT. Gramedia Pustaka Umum.
Sudimahayasa, N. (2015). Penerapan Model Pembelajaran TGT untuk Meningkatkan Hasil Belajar, Partisipasi dan Sikap Siswa. Jurnal Pendidikan Dan Pengajaran, 48(1–3), 45–53. https://doi.org/DOI: http://dx.doi.org/10.23887/jppundiksha.v48i1-3.6917
Sugiyono, P. D. (2015). Metode Penelitian dan Pengembangan. Res. Dev. D.
Sukadiyanto. (2011). Pengantar Teori Dan Metodologi Melatih Fisik. Lubuk Agung.
Supriono, A. (2016). Model-model Pembelajaran Emansipatoris. Pustaka Belajar.
Sutiana, Y. W., Kurniawan, F., Resita, C., & Gemael, Q. A. (2020). Tingkat Keterampilan Dasar Futsal Pada Ekstrakurikuler Futsal Di Sekolah Nihayatul Amal Purwasari. Halaman Olahraga Nusantara (Jurnal Ilmu Keolahragaan), 3(2), 124. https://doi.org/10.31851/hon.v3i2.4411
Tegeh, I. M., Jampel, I. N., & Pudjawan, K. (2014). Model Penelitian Pengembangan. Graha Ilmu.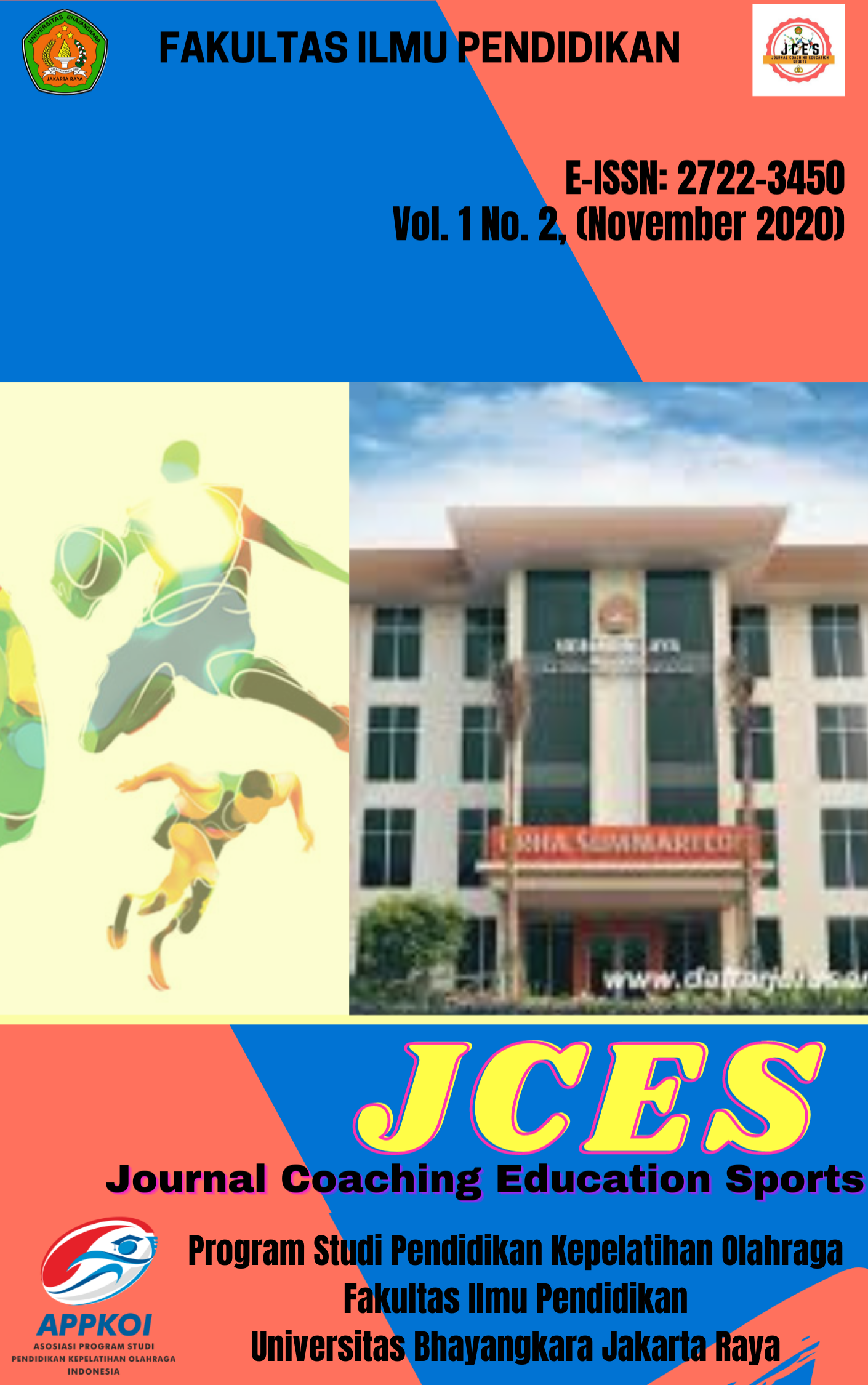 How to Cite
Idris, F., Febi Kurniawan, & Akhmad Dimyati. (2020). Pengembangan Model Latihan Passing Dan Movement Without The Ball Futsal Pada Kegiatan Ekstrakulikuler Sekolah Menengah Atas Berbasis Games Kompetisi. Journal Coaching Education Sports, 1(2), 75 - 84. https://doi.org/10.31599/jces.v1i2.330
Copyright (c) 2020 Fahmi Idris, Febi Kurniawan, Akhmad Dimyati
This work is licensed under a Creative Commons Attribution 4.0 International License.