Model Pembelajaran Kooperatif STAD Untuk Meningkatkan Hasil Belajar Servis Atas Permainan Bolavoli
Budiman Agung Pratama

Universitas Nusantara PGRI Kediri
Keywords:
Kooperatif STAD, Servis, Bolavoli
Abstract
Tujuan penelitian ini adalah untuk meningkatkan hasil belajar servis atas permainan bolavoli melalui model pembelajaran STAD. Penelitian ini menggunakan Penelitian Tindakan Kelas model Kemmis & McTaggart dengan tahapan-tahapan sebagai berikut: Perencanaan (plan), Pelaksanaan tindakan (action), Pengamatan (observe), Perbaikan atau refleksi (reflect). Subjek dalam penelitian ini siswa kelas X1 SMA Negeri 1 Kediri dengan jumlah 24 siswa laki-laki dan 16 siswa perempuan, instrumen yang digunakan dalam penelitian ini adalah lembar observasi servis atas bolavoli. Data hasil unjuk kerja servis atas bolavoli siklus I dan test siklus II, hasil ditentukan berdasarkan ketuntasan individu, ketuntasan klasikal. rerata kemampuan siswa. Peningkatan prosentase  ketuntasan belajar siklus pertama ke siklus kedua yaitu sebesar 46,925%. Hasil penelitian ini dapat disimpulan bahwa penerapan model belajar kooperatif Student Team Archievement Division (STAD) efektif untuk meningkatkan hasil belajar servis atas bolavoli pada siswa kelas X.1 SMA Negeri 1 Kediri.
Downloads
Download data is not yet available.
References
Altrichter, H., Kemmis, S., McTaggart, R., & Zuber‐Skerritt, O. (2002). The concept of action research. The learning organization.
Cobb, P., & Yackel, E. (1996). Constructivist, emergent, and sociocultural perspectives in the context of developmental research. Educational psychologist, 31(3-4), 175-190.
Dewey, J. (1997). Experience and Education [1938]. New York: First Touchstone Edition, 64-67.
Dimyati, M. (2006). Belajar dan pembelajaran. Jakarta: Rineka Cipta.
Johnson, D. W., & Johnson, R. T. (1994). Learning together. Handbook of cooperative learning methods, 51, 65.
Ngalim, P. (2011). Evaluasi hasil belajar. Yogyakarta: Pustaka Pelajar.
Nurhadi, A., & Senduk, A. (2003). Pembelajaran Kontekstual dan Penerapannya dalam Kurikulum Berbasis Kompetensi. Malang: Universitas Negeri Malang.
Stevens, R. J., & Slavin, R. E. (1995). The cooperative elementary school: Effects on students' achievement, attitudes, and social relations. American educational research journal, 32(2), 321-351.
Tobin, K., Tippins, D. J., & Gallard, A. J. (1994). Research on instructional strategies for teaching science. Handbook of research on science teaching and learning, 45, 93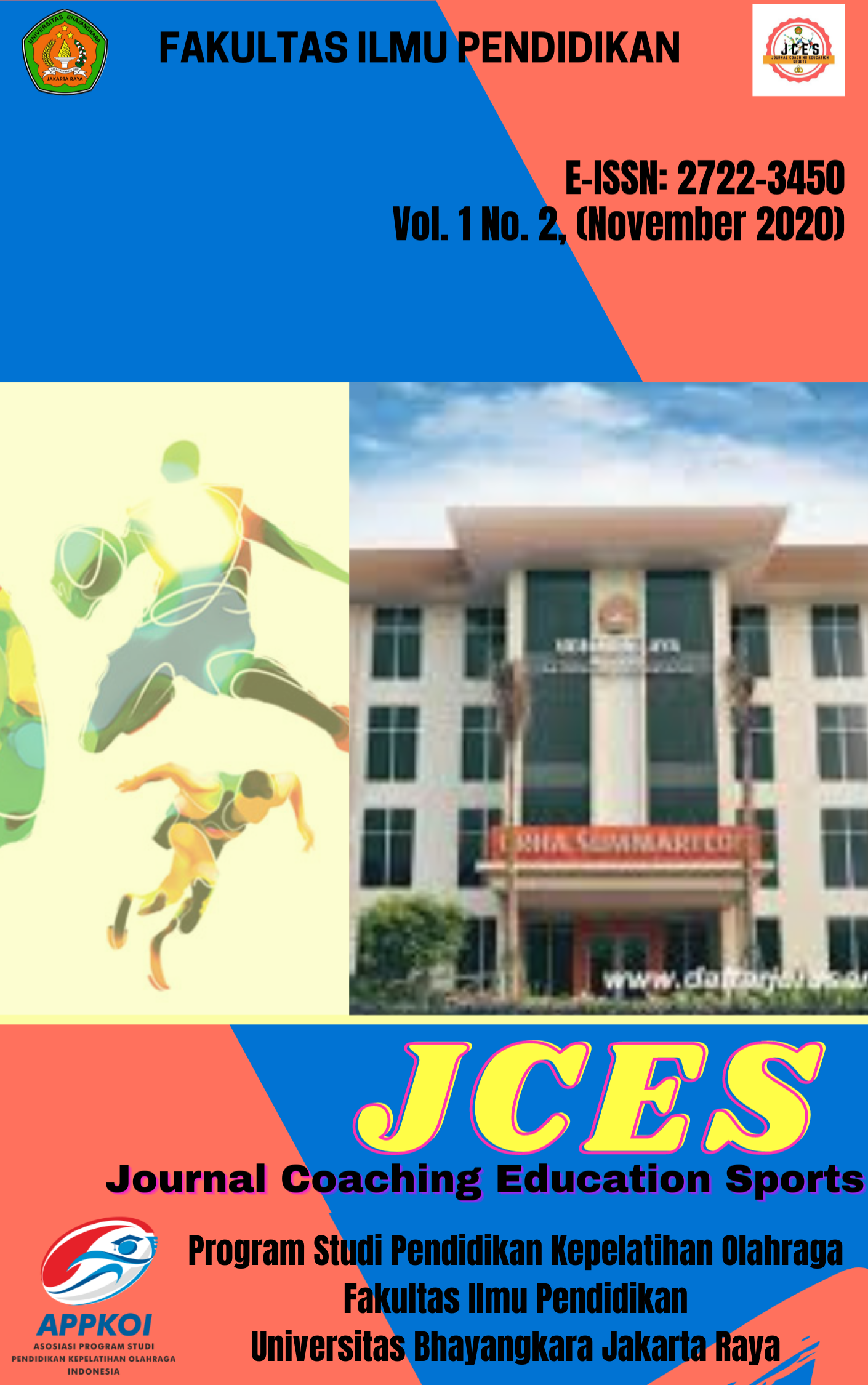 How to Cite
Budiman Agung Pratama. (2020). Model Pembelajaran Kooperatif STAD Untuk Meningkatkan Hasil Belajar Servis Atas Permainan Bolavoli. Journal Coaching Education Sports, 1(2), 127 - 132. https://doi.org/10.31599/jces.v1i2.368
Copyright (c) 2020 Budiman Agung Pratama
This work is licensed under a Creative Commons Attribution 4.0 International License.